Achievement Starts Here
School teams attend SREB's Networking Conference to deepen their implementation of powerful literacy and mathematics tools and strategies that enhance students' content knowledge and reasoning skills.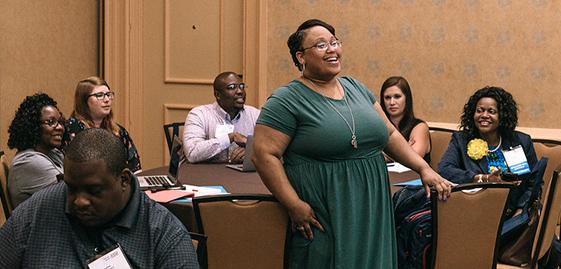 Benefits of Attending
Keynotes, deep-dives, concurrent sessions and team meetings bring teachers, counselors and school leaders together to discover how these tools and strategies empower students to own their learning.
Among other benefits, conference attendees:
Network with educators from across the country
Explore promising practices from experts and thought leaders
Engage in hands-on professional learning
Develop classroom, school or district plans for school improvement
Share student and school success stories
Use data to make informed decisions
Build stronger school teams and communities of practice
We invite you to learn more about this year's theme and objectives, register and submit a proposal that shares how powerful literacy and mathematics practices have transformed teaching and learning in your classroom, school or technology center.